So you received your new SBI ATM Debit card after ordering it online. Now you need to activate your card which can be done online through net banking.
And here we will tell you how to generate an ATM PIN online for your new SBI ATM Debit card, yes you don't need to wait for a physical ATM PIN, you can set a pin online through net banking.
You can generate your pin at any SBI ATM also, but if you have a net banking facility then no need to visit an atm, just login to your internet banking account and set your pin.
Here is the step by step guide:
Generate/Set New SBI ATM DEBIT CARD PIN online
The process is very simple and fast. Make sure you have SBI registered mobile number, we need it during the process.
Step 1# Firstly login to SBI net banking portal, enter your user ID and login password & hit login.
Step 2# After login, click on e-Services and then click on ATM CARD Services as you can see below image.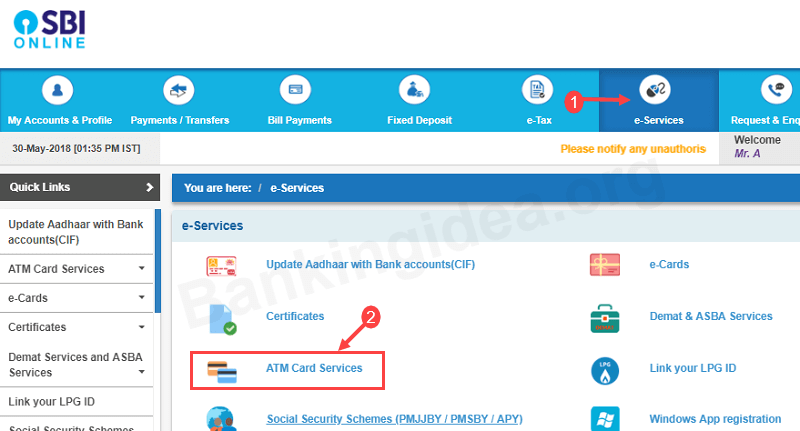 Step 3# In ATM CARD Services, click on ATM PIN Generation.

Step 4# Now for validation you have two options, select OTP or Profile password option. If you select otp then you need to enter otp which you received on your registered mobile number OR select profile password and enter the same.
Step 5# Select your Account number on the next screen.

Step 6# Now select your Debit card and proceed further.

Step 7# Now in next screen, enter first two digit for your PIN of your choice.

Step 8# And the next screen, enter a 4-digit Pin. The first two digits you already know and the last two digit you received on your registered mobile number. Enter a 4-digit PIN.
Congrats, you have successfully set your new SBI atm card pin. With the same process, you can change your pin anytime.

So this is how you can generate a PIN for your new SBI ATM Debit card. You can also visit your nearest SBI ATM for PIN Generation.