SBI customers can now manage online transaction rights for net banking and mobile banking. You can change limited transaction rights to full transaction rights or change full transaction rights to view only/limited transaction rights.
SBI YONO application now lets you manage transaction rights online so you can change transaction rights anytime using this app.
In SBI net banking and mobile banking, you will get three options to manage your account online:
View only rights: You can view your account balance and statement only, no money transfer is allowed.
Limited transaction rights: You can transfer money to your other sbi account only, no other bank transfer is allowed
Full Trsanction rights: All restrictions removed and you can transfer money to any bank account and also access the profile section
With SBI YONO now you can change these transaction rights anytime, here we will tell you how to change transaction rights for SBI net banking and mobile banking using the YONO app.
How To manage SBI Transaction Rights Online
First, you need to install the official SBI YONO app on your phone and activate it. Just register your account with SBI YONO.
Now login SBI YONO app and open options and tap on Service Requests.
In the next screen tap on the Settings tab.
Now tap on the Manage Transaction Rights option.
You will be asked to enter the profile password, enter your net banking profile password.
Next screen select your account number and tap on the Edit pencil icon as you can see below the screen.
Now select your transaction rights from three options and confirm your request.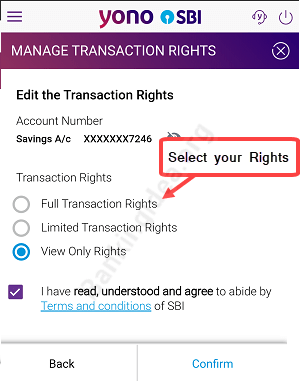 That's it you have successfully changed your transaction rights for SBI net banking and mobile banking. By following this process you can change your transaction rights anytime.
FAQ
Q.1: I have view only transaction rights in SBI, how to change it into Full transaction rights?
Ans: Just follow the above process and select full transaction rights.
Q.2: I'm unable to transfer money to other bank accounts as I have limited transaction rights, what I do?
Ans: Change your transaction rights into Full transaction rights, follow the above process.