South Indian Bank Mobile Banking facility now enables you to change ATM PIN online anytime. Yes, you can generate a new ATM PIN for your South Indian Bank ATM Debit card online instantly using mobile banking.
If you forgot your current ATM PIN or want to change it then no need to visit ATM to change the ATM PIN, just log in to Mobile banking and generate a new PIN instantly.
South Indian Bank Mobile Banking facility available for all customers, you can activate mobile banking by installing the official app on your phone and completing the one-time registration process.
So here we will guide you – how to change or generate ATM PIN Online for South Indian Bank ATM Debit card.
Change or Generate ATM PIN Online in South Indian Bank
Login to South Indian Bank Mobile Banking.
After successfully login, open the options bar and tap on the Debit Card option.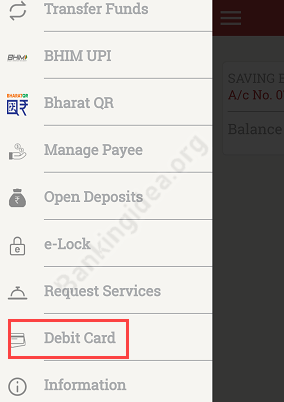 Now tap on Debit Card PIN Set/Reset
And in the final step, choose your account number, select your Debit card and enter your new ATM PIN. After setting up your ATM PIN, submit your request.
Congrats, you have successfully generated a new ATM PIN for your south Indian bank debit card. You can use your Debit card with a new ATM PIN at the ATM machine.
Frequently Asked Questions
(1) Just forgot My South Indian Bank ATM card PIN so is there any way to get a new Pin?
Ans: Don't worry, if you have a South Indian Bank Mobile banking facility then login and generate a new ATM PIN for your Debit card instantly. This is the simple and fast process to get a new ATM PIN online. You can also visit the nearest South Indian Bank ATM to generate a new PIN.
(2) How to change South Indian Bank ATM PIN online?
Ans: For your Debit card security, it is a good habit to change your ATM PIN regularly. South Indian Bank customers can now change ATM PIN online through the mobile banking app. Kindly follow the above steps.