Dear customers, Syndicate Bank is now officially Canara Bank so please refer to this article: How To Request Canara Bank Cheque Online & by SMS
After Syndicate Bank & Canara Bank merger, your syndicate bank account migrated to Canara bank so now you need to access Canara net banking and mobile banking to order a new cheque book. Please refer to this article: How to request Canara Bank cheque book online
If you are a Syndicate Bank customer and visiting the bank to apply new Cheque Book then no need to visit Bank. You can now request new Cheque Book online through mobile banking and net banking.
Normally to get a new Cheque book in Syndicate Bank customer need to visit the bank, fill the request form, but if you have net banking or mobile banking facility then you can order new Cheque book online.
Syndicate Bank net banking and mobile banking services are free of charge and you can access many online services at home.
See how Syndicate Bank customer can request new Cheque book online:-
1# Request Syndicate Bank Cheque Book Through Mobile Banking
You can activate Syndicate Mobile Banking on your phone online by installing Synd mobile banking application. Read: How to activate Synd mobile banking
To apply a new Cheque Book through mobile banking:
1: Login to Syndicate Bank Mobile Banking application.
2: After login, tap on Requests tab and select Cheque Book Request.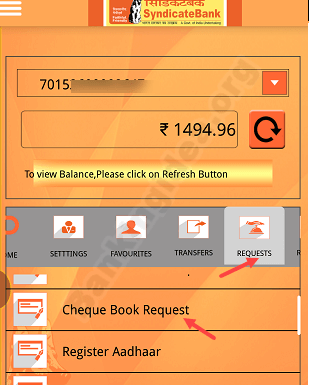 3: Now select your Account number and cheque leaves and submit your request.
That's it your request submitted successfully.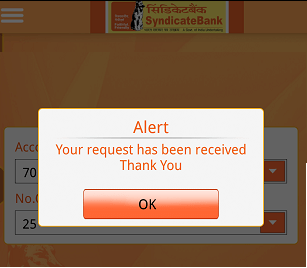 2# Request Cheque Book Through Net Banking
You can also request Cheque Book through net banking facility.
1: First login to syndicate bank net banking, enter user id and login password, visit: https://www.syndonline.in/B001/ENULogin.jsp
2: After login click on Customer Service and select Cheque Book Request option.
Now select your Account number, cheque leaves. You need to collect cheque book at branch so select your branch and submit your request.
3: Next screen verify your details and click on confirm.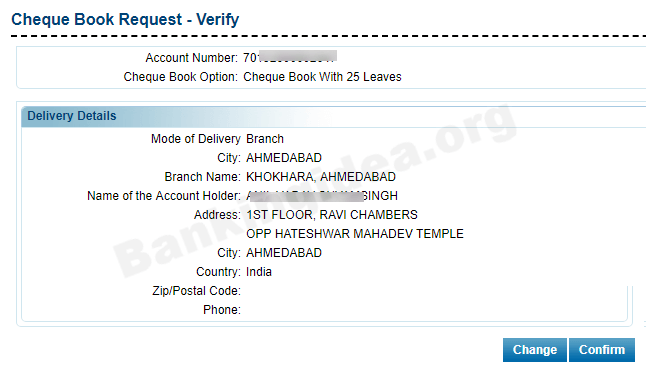 So by following these two online ways, syndicate bank customers can apply cheque book online without visiting branch.