If you have applied for a new Debit card for your Canara bank account, you can track your debit card delivery status online and check when it will be delivered to your address. You can place a new debit card request online and your new ATM card will be sent to your registered address.
Normally your new Carana bank debit card delivery takes 10 working days, however, if you want to check the current status of your request then follow the below steps:
Track the Status of Your Canara Bank Debit Card Request
Step 1: Visit the Canara bank net banking login page and login to your account using your user ID and login password (https://online.canarabank.in/)
Step 2: After login, click on the "Cards" section from the menu, select the "New Debit Card Request & Tracking" option and then click on "Click here to track your new debit card" (See the below screenshot for your reference)

Step 3: You will be redirected to a new page. Now enter your account number OR inward number and submit.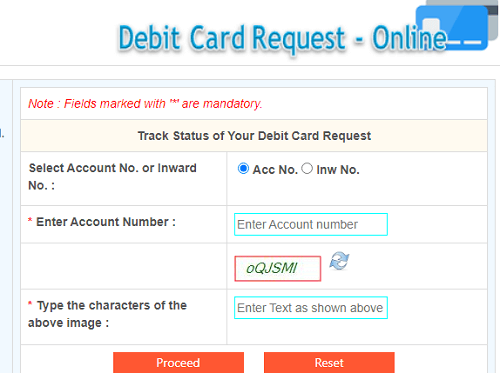 And the next screen you can check the current status of your debit card request. If your debit card is despatched, you can see the tracking number to track the delivery status of your card.
So this is how Canara bank customers can check the tracking status online of their newly applied debit card.
FAQ
Q.1: When my Canara Bank new debit card will be delivered?
Ans: If you have placed a new debit card request through an online channel, then you can track your debit card status online by entering your account number. Please follow the above process.
Q.2: How To check the delivery tracking number of my Canara debit card?
Ans: You can follow the above steps and check your debit card delivery tracking number.