As you know, you can apply for UCO Debit Card online through mobile banking and net banking. You can now also track your new debit card delivery status and check its current location and when it will be delivered to your destination.
So here we will tell you how to check UCO debit card delivery status online using the tracking ID number.
How To Track UCO Bank Debit Card Delivery Status Online
If your Debit card delivery is delayed then just follow the below steps and know where is your card?
Step 1: You will receive your UCO Bank Debit card tracking ID number through SMS on your registered mobile number within 10 days after applying for a new Debit card. As you can see in the below screenshot, I have received my tracking ID number and it is India post. Normally your UCO Debit card will be dispatched through IndiaPost.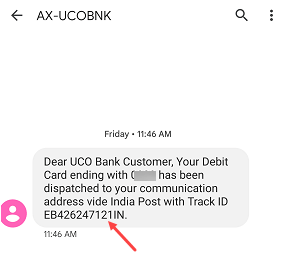 Step 2: Visit the IndiaPost tracking consignment page and enter your tracking ID in the consignment number column and click on the search.

And on the next screen, you can check your UCO Debit card current status and view its current location. Normally your Debit card will be delivered within 7 days after being dispatched by the bank.

So this is the way you can track the delivery status of your UCO ATM/Debit card online. If you have just applied for a new UCO debit card or your card renewed then follow the above steps and know your debit card status online.
FAQ
Q.1: How to get UCO new debit card tracking ID number?
Ans: You will receive it on your registered mobile number after applying for a new debit card.
Q.2: Can I check my new UCO Debit Card current location?
Ans: Yes, you can check it through the tracking ID number sent to your bank account-linked mobile number. Please follow the above steps.