SBI customers can now change the branch online using mobile banking and net banking. If you want to transfer your SBI account to another branch then you don't need to visit the bank, you can submit an online account transfer request and your account will be transferred to the new branch within 7 days.
This online account process will save your time and yes you don't need to submit any physical documents in this online process. If you also wish to change your SBI home branch then follow the below online process and transfer your account online.
Transfer SBI Account To Another Branch Online
If your mobile banking or net banking is active then you can also submit an account transfer request online, see how:
1. Change SBI Branch Online Through Mobile Banking
Login to SBI YONO Lite mobile banking app and tap on Services.
In Services, you can see the Transfer of Saving Account option, tap and open.
On the next screen, select your account number, enter your new branch code and tap on Get Branch name. Now you can see your new branch name if it is correct then submit your request. (You can search branch code online)
Next screen review your details and submit your request.
Congrats, you have successfully transferred your account to the new branch. It will be processed within 7 working days.
2. Transfer SBI account using internet Banking
You can also transfer your account using SBI Internet Banking.
Login to SBI net banking by entering the user ID and login password.
After successful login, click on e-Services and open Transfer of Saving Account.
And the next screen select your account, type a new branch code and click on Get Branch Name. You can see your new branch name. Confirm these details and submit your request. (Please use the SBI branch locator to find the branch code)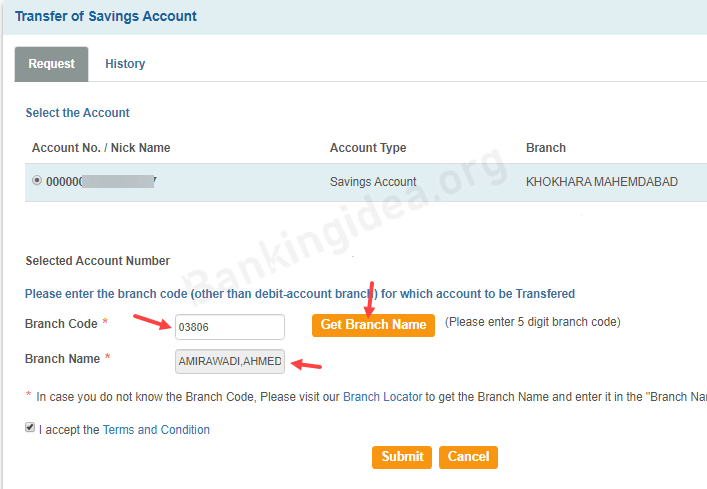 Check SBI Account Transfer Status
After submitting SBI account transfer online request, your account will be transferred to a new branch within 7 working days and your branch will be changed. To know whether your branch changed or not, you log in to net baking or mobile banking after 7 days.
To know account transfer status, login to net banking.
Click and open e-Services – Transfer of saving account.
Now open History and here you can see your old branch and new branch details.

You can also open account details to know your account transfer status. So this way SBI customers can change the branch online and transfer account to another branch.