Today I received an SMS that my UCO Debit Card has expired, I have to apply for a new debit card by visiting the branch. But if you are using UCO net banking or mobile banking, you can get your new ATM card online and receive it at your registered address via courier.
So here we will tell you step by step, how to request a new UCO debit card when your current debit card expires or is near to expiry date.
If you are using UCO mobile banking application then you can easily submit your request and re-issue a new debit card for your account. Follow these steps:
UCO Bank Debit Card Expired, Re-issue New Debit Card Online
If your UCO ATM cum Debit card is about to expire or already expired then follow these steps and submit a re-issue debit card request online.
Step 1: Open and login to your UCO Mobile banking application and on the home screen, tap and open the "Manage Cards" section located below.
Step 2: You will see the "Physical Debit Card Request" option on the next screen, click on this option and proceed.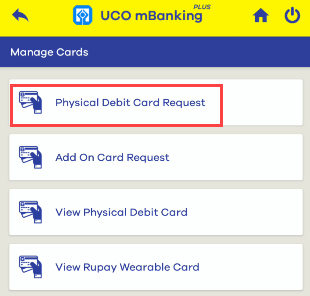 Step 3: On the next screen, select your account number, if your current debit card is active then select your current debit card number (it will be blocked once you submit your new application), select your new debit card type like rupay & VISA, check your address is correct and submit your request.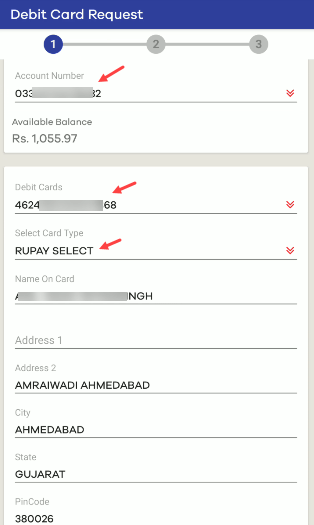 Step 4: And finally, click on the confirm button and submit your application. Once you submit your application, your current active debit card will be blocked and a new debit card will be sent to your linked address.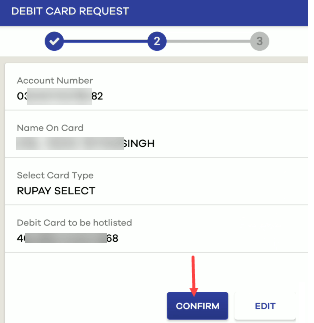 You can activate your new UCO debit card and generate an ATM PIN online using mobile banking and net banking.
So if you are a UCO bank customer and your debit card is expired then follow the above steps to get a new card online.