If you forgot your current UCO Bank Debit card ATM PIN or want to generate a new ATM PIN for your UCO Bank Debit card then you can do it online without wasting your time at ATM and branch.
UCO Mobile Banking now lets you change/regenerate ATM PIN online so if you have a mobile banking facility then you can also set a new ATM PIN for your Debit card online anytime anywhere.
For your Debit card safety, it is necessary to change your ATM PIN regularly. So here we will tell you an online method to get a new Pin number for your UCO Debit card.
UCO Bank Debit Card Generate new ATM PIN online
1: The first step is, you need to login to UCO Mobile Banking application.
2: After login, you can see "Manage Cards" option. This section lets you manage your ATM card. You need to select this option.
2: Next screen, select "Green Pin Generation" option as you can see in the below image.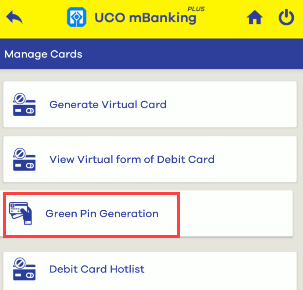 3: Next, select your bank account number and click on proceed button.
4: Next, you can see your current active Debit card. Click on "Generate Green Pin" option.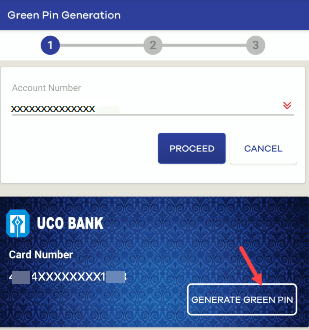 5: And in the last step, enter 16 digit UCO debit card number, cards expiry date (MM/YY) and set a new ATM PIN for your Debit card and submit it.
So this is the easiest and quick online method to generate an ATM PIN for a UCO Debit card. If you applied for a new ATM/Debit card then you can follow the above steps and generate an ATM pin for your new Debit card.
FAQs
(1) How to get a new ATM PIN for my UCO Debit Card online?
Ans: If you are using UCO Mobile banking then you can easily create a new ATM PIN for your Debit card. Please follow the above step-by-step guide and do it now.