You can generate UCO bank green pin online using mobile banking and net banking. When you generate your Debit card 4-digit ATM PIN digitally (online), it is called Green PIN.
No need to visit the branch for a physical debit card PIN or the nearest ATM machine to create your PIN, simply login to UCO mobile banking or net banking and generate your debit card green pin online.
We have discussed step by step about UCO Bank green PIN generation below:
UCO Bank Green PIN Generation Online
Step 1: Open your UCO Mobile Banking application and here you will find the "Manage Cards" option below as you can view in the below screenshot.
Step 2: On the next screen you can see the "Green PIN Generation" option, select this.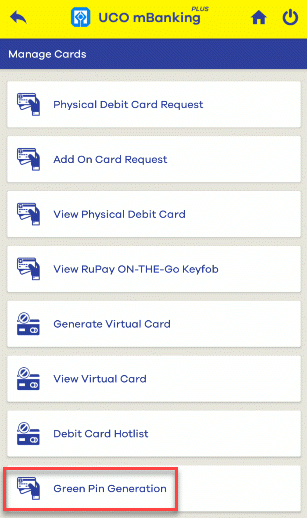 Step 3: Now select your account number and proceed. You can see your debit card number, tap on the "Generate Green PIN"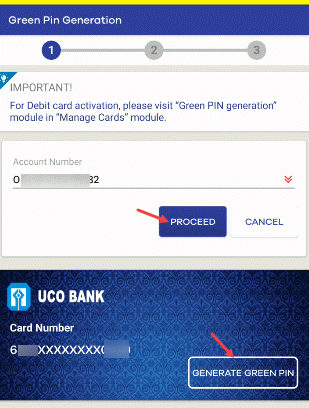 Step 4: You need to enter your debit card number and expiry date (month and year). Now set your 4-digit green PIN and submit.
Step 5: Complete your green pin generation request by entering OTP received on your bank account registered mobile number and TPIN.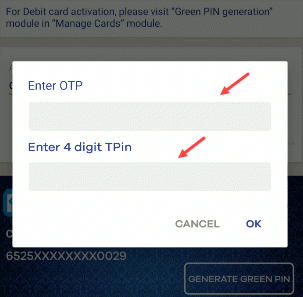 Green PIN generation for UCO Debit Card successfully completed. Now you can use your debit card for withdrawal and use your green pin.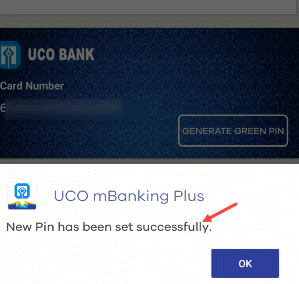 If your ATM/Debit Card is new, then you can use the above steps to activate your debit card and generate its green pin/ATM PIN.
FAQs
Q.1: What is Green PIN in UCO Bank?
Ans: Green PIN means your Debit Card ATM PIN. When you create your debit card 4-digit ATM PIN online without a physical PIN then it is called a green pin.
Q.2: Can I generate green PIN online for my new UCO Debit card?
Ans: Yes, you can generate a green pin online for your new UCO ATM card.