UCO Bank customers can get Account mini Statement (Last 5 transaction) details through a toll-free number. The customer just needs to dial a particular toll-free number (missed call number) from his/her registered mobile number and they will get an account mini statement via SMS.
This facility is available for all customers free of cost. Make sure your mobile number is registered with your account to avail missed call mini statement check facility.
UCO Bank, formerly United Commercial Bank, established in 1943 in Kolkata, is a major government-owned commercial bank of India. As of 30 March 2017 the bank had 4,000 plus service branches 49 zonal offices spread all over India.
In this mini statement, customers will get the last 5 transactions (credit/debit) details via SMS.
See how:-
UCO Bank Account Mini Statement (Last 5 Transitions) Details Via SMS
To get your UCO Bank Account Mini Statement:-
From your registered mobile number, dial this toll-free number: 09213125125
The call will disconnect automatically
Soon you will receive the mini statement via SMS, in this SMS you can see your last 5 transactions details.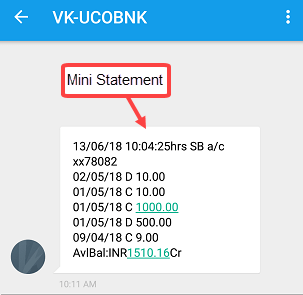 So this is how UCO Bank customers can get Account mini statement (last 5 transactions alert) via SMS. No need to visit the bank to print a passbook, you can dial this number anytime to view your account activity.