Axis Bank customers can now change or update registered mobile number online without visiting the branch or ATM. The mobile number update facility is now live on Axis Mobile banking official application.
If you are an Axis Bank customer and want to change or register a new mobile number with your saving account then no need to visit the ATM, just log in to Axis Mobile Banking and change your number online instantly.
Here we will guide you step by step process, how to register a new mobile number with your Axis Bank account online using Mobile Banking.
Change/Update Axis Bank Register Mobile Number
Make sure Axis Mobile Banking is active on your mobile phone, if not then install Axis Mobile Banking application on your phone and complete the one-time registration process. If already have a mobile banking facility then follow these steps to change your mobile number:
Step 1: Open Axis Mobile Banking application and log in to your account.
Step 2: After successful login, you can see "My Profile" option in the services section, tap and open it.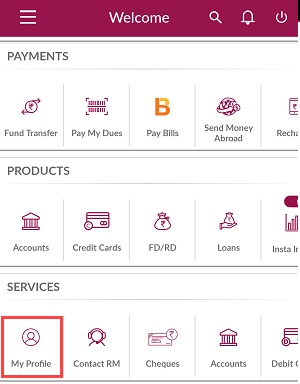 Step 2: In My Profile section, you can view your current linked mobile number. Click on "Update" option as you can see below the screenshot.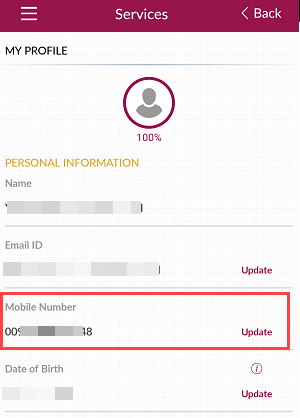 Step 3: And next screen, you need to select Mobile number option, select (tick mark) and click on Update mobile number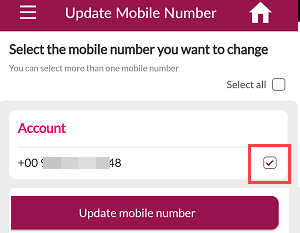 Step 4: And in the final step, enter your new mobile number and submit.
Congrats, your mobile number update request submitted successfully and it will be updated within 24 hours. You will be able to receive alerts and OTP messages on your new mobile number after 24 hours.
Frequently Asked Questions
Q.1: Can I change or update my mobile number using Axis net banking?
Ans: Currently, mobile number updation facility is available only on mobile banking so you need to register for mobile banking.
Q.2: How to register my new mobile number with my Axis Bank account?
Ans: If you want to link a new mobile number with your axis bank account then you can do it online using mobile banking application. Please login to mobile banking and follow the above step-by-step process.