Do you want to update your Pan card number in your HDFC Bank account? If yes, then here we will tell you the step by step how to update your Pan number linked with your HDFC bank account.
If your Pan card is not registered with your HDFC bank account then you can follow the below steps and register your PAN number online.
In the absence of PAN detail on Bank records, the interest earned on Fixed Deposits and Recurring Deposits will be subject to penal TDS at 20% (if applicable) so better you register or update your Pan details with your HDFC bank account.
Register OR Update your Pan Card With HDFC Bank Account Online
Step 1: Login to your HDFC net banking account (visit: https://netbanking.hdfcbank.com/netbanking) using your User ID and login password.
Step 2: After login, click on the "Accounts" tab from the menu list and then click on the "Request" as you can see in the below screenshot.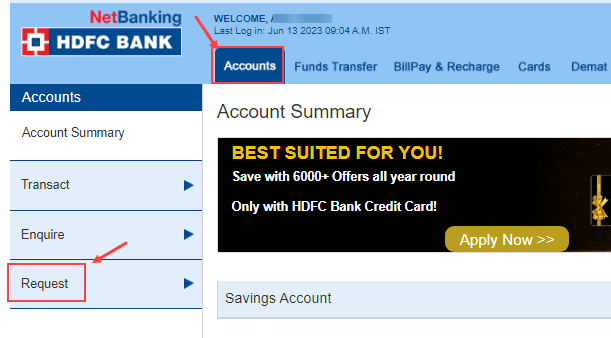 Step 3: In the Request section, click on the "Add/Update PAN Number" option.
Step 4: Next screen enter your Pan card number and click on the continue.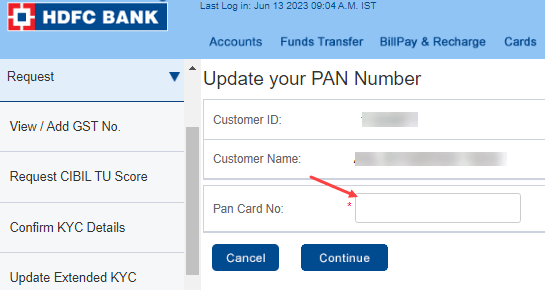 Step 5: In the next step, confirm your entered Pan number is correct and click on the confirm button.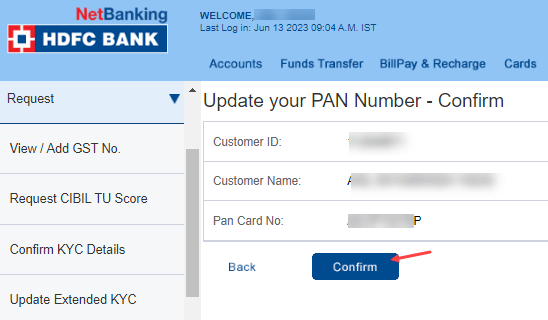 Done! Your Pan card number Add/update request has been sent successfully. The submitted PAN will be updated within 3 working days, post validation of the PAN with the income tax records.
In case of any mismatch of the submitted PAN with Income Tax records, the updation request will be rejected and the customer will be intimated.
In case of any rejection, the customer will need to visit the nearest branch with a copy of the PAN card for updation on Bank records.
So this is how to register or update Pan card with HDFC bank account online thru net banking. BTW, you can now verify online whether your Pan card is linked to your HDFC account or not.