UCO Bank Mobile number change/update facility is now live on the official mobile banking application. So now you can update your UCO registered mobile number online without visiting the branch.
If you want to register a new mobile number with your UCO Bank account then here we will guide you step by step, how you can do that online.
Before you proceed, make sure your current UCO registered mobile number is active and UCO official mobile banking active on your phone.
Update UCO Bank Registered Mobile Number Online
(1) Login to UCO Mobile Banking and tap & open "Profile" option.
(2) Now tap on "Update Mobile Number" option as you can see below screenshot.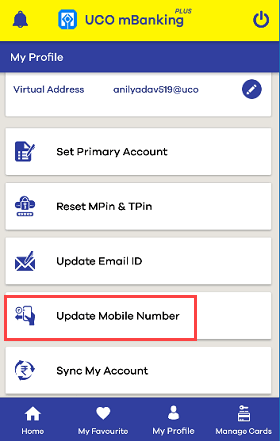 (3) Now enter your new mobile number and re-enter to confirm and tap on verify.
(4) An OTP will be sent to your new mobile number, enter the OTP and proceed.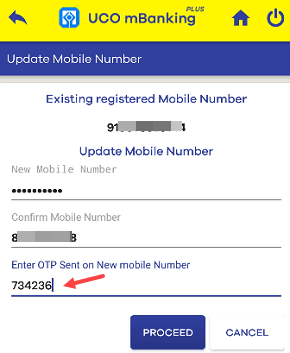 (5) Next screen you need to enter your Debit Card 16-digits number, expiry month & year, and ATM PIN.
(6) Now enter OTP received on your current registered mobile number and enter your mobile banking TPIN.
Congrats your new mobile number has been registered with your UCO bank account. Now you need to wait for 24 hours to complete the process.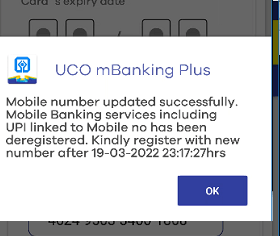 After 24 hours, your new mobile number will be activated for your account and you will be able to receive alerts on your new mobile number.
FAQs
Q.1: How can I link my new mobile number with my UCO Bank account?
Ans: If the current mobile number is active then you can link your new mobile number with your UCO account using mobile banking. Please follow the above step-by-step guide.
Q.2: Which things are required to update my UCO mobile number online?
Ans: You need an active mobile banking service on your phone, your current mobile number, and Debit card with ATM PIN.