Do you want to upgrade your HDFC Bank Debit card? If yes then you don't need to visit the bank. You can submit your Debit Card upgrade request online and receive your new upgraded Debit card at home via courier.
If you are not happy with your current HDFC Bank Debit card and you want to apply for a new Debit card with advanced features and limits then you can upgrade your ATM card and get a new one online.
Suppose your current HDFC Debit card ATM withdrawal limit is just INR 50000 and you want INR 1 lac withdrawal limit Debit card then you can upgrade your Debit card with a platinum Debit card which comes with a daily higher ATM withdrawal limit of Rs 1 Lac and daily POS /Online spends limit Rs. 2.75 Lac.
All you need to do is login to HDFC Internet Banking and submit an upgrade request. After submitting your request, your Debit card will be delivered to your registered address.
HDFC Bank Debit Card Upgrade Process (Online)
Login to HDFC Net Banking.
After login, click and open "Cards" Section. On the left side, under the Debit Card option, click on Transact – Debit Card Upgrade & select your Debit card number.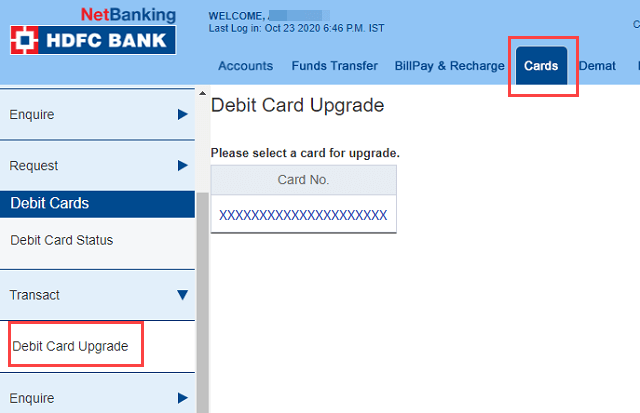 And the next screen, you can see different Debit card options with card features and fees. Select your Debit card and submit your request by cling on the confirm button. The annual fee (plus service tax) for the new Debit Card will be levied, as applicable.
Issuance of the new upgraded Debit Card is subject to successful processing of the request as per customer eligibility. The upgraded Debit Card will be delivered to the mailing address on record within the Next 5 Working Days (for Metro Locations).
Your existing Debit Card will get deactivated within 3 working days of receipt of your new upgraded Debit Card. (In case your new Debit Card is sent to Branch, the existing Debit Card shall be de-activated after 15 days from date of despatch of the new Debit Card)
Your new CHIP Debit Card will be activated for International & Domestic usage. If you wish to deactivate International usage on your CHIP Debit Card, please login to NetBanking (Cards->Debit Cards->Request->Set International/Domestic Usage) or call PhoneBanking.