Syndicate Bank (now merged with Canara Bank) customers can change the ATM card limit online using net banking and mobile banking. You can set a new ATM card cash withdrawal limit online for your ATM Debit card. Please refer to this article: How To Change Canara Debit Card Cash Withdrawal Limit
The bank offers many different ATM Debit cards and easy ATM cards come with a different cash withdrawal limit. You can check your Syndicate ATM card limit online and change it with a new limit.
You can increase or decrease your Syndicate ATM card limit anytime by login to mobile banking and net banking, here is how-
Change Syndicate Bank ATM card limit
Syndicate Bank customers can manage their ATM Debit card online through Mobile banking and net banking. You can set a new limit for your Debit card by login to any online banking channels.
1. Set new ATM card limit using Mobile Banking
Open Syndicate bank mobile banking application & tap on Card Settings – Set Limit
Next screen, you can view your Syndicate ATM card maximum limit for cash withdrawal. To change this limit swipe left-right and increase/decrease your card limit.
2. Change Syndicate ATM card limit through Net Banking
You can also change your Syndicate Debit card cash withdrawal limit through net banking.
Open Syndicate Bank Internet banking and login to your account.
Now click and open Debit card section.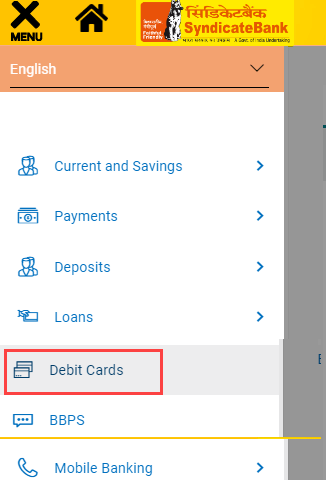 Next screen click on Manage Card.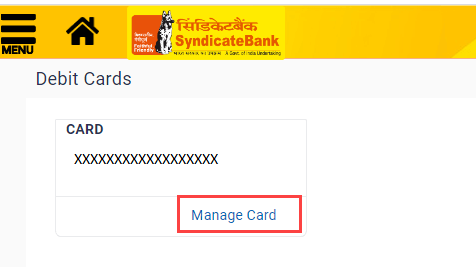 And here you can view your maximum card withdrawal limit. Set a new limit and submit.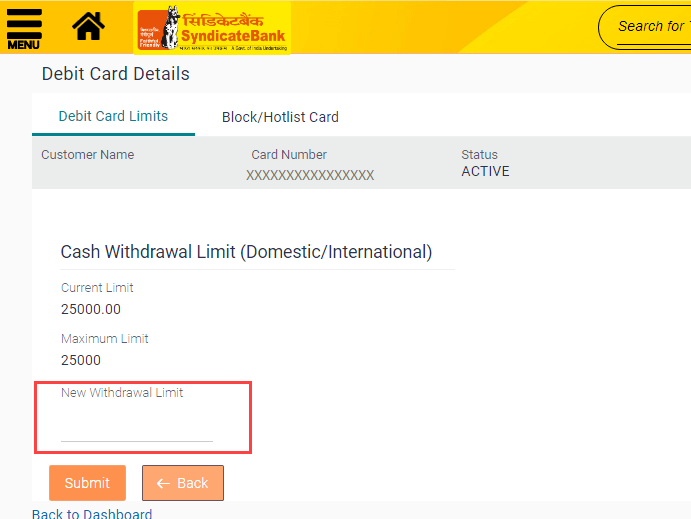 Now you can withdraw cash from ATM under this new limit. You can change this ATM cash withdrawal limit anytime.
Frequently Asked Questions
(1) : How to know my Syndicate Bank ATM card cash withdrawal limit?
Ans: You can login to Syndicate Mobile banking or net banking to view your ATM limit in Debit card/manage card section.
(2) How to increase my Syndicate Bank ATM limit?
Ans: If your Debit card limit is less than the maximum limit, please log in to online banking and increase your limit.