Bank of Baroda has launched a Cash on Mobile (Cardless Cash withdrawal from ATM) facility for all customers. Now BOB customers will be able to withdraw cash from any BOB ATM without using ATM or Debit card. This cardless withdrawal facility is available at any BOB ATM.
Many times you need urgent cash but you forgot your ATM card at home. On this occasion, BOB Cash on Mobile facility will help you and enables you to get cash without inserting your ATM card in the ATM machine.
Bank of Baroda customers just requires Mobile Banking facility on their mobile phone to use this facility. Here we will guide you step by step – how to make the cardless transactions at any BOB ATM.
Withdraw Cash Without ATM card at Bank of Baroda ATM
BOB customers just need to open BOB M-connect Mobile Banking application and generate an OTP for the cardless transaction.
Login to BOB Mobile Banking and tap on the Premium Services tab.
Next screen tap on Cash on Mobile service.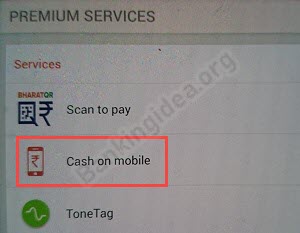 Now select your Account number, enter the amount (minimum amount is Rs.100 & maximum amount limit Rs.5000), enter remarks, and submit.
After submitting the request, an OTP is sent to your bank registered mobile number. Please note, this OTP is valid only for 15 minutes so you need to visit ATM & withdraw cash within 15 minutes.
Withdraw Cash using OTP at any BOB ATM
Visit your nearest Bank of Baroda ATM with this OTP and select Cash on Mobile option on the ATM screen.
Now enter OTP which is sent on your mobile number and enter the amount.
Done! now collect your cash and receipt.
So this is the simple process of cash withdrawal from any BOB ATM without using an ATM card/Debit card. Whenever you need to withdraw cash and don't have an ATM card, use cash on the mobile facility for cardless cash withdrawal.