Don't know your Zerodha account BO ID, DP ID, and Demat account number? You can check all these details online using Zerodha's official mobile application Kite.
What is BO ID & DP ID in Zerodha?
Every Demat account has its own unique 16 digit account number which is assigned by the Depository Participant, or the DP, to the Demat account holder. This is known as the Demat account number. When you open a Zerodha Demat account, a welcome letter from the depository (CDSL or NSDL) will be sent to the user which will contain all the account information including your Demat account number. The Demat account number is also known as Beneficiary Owner ID or BO ID in the case of the CDSL.
Your Demat account number contains a 16-digits number, the first 8-digit is your DP ID and the last 8 digit is your BO ID/Client ID.
Check Zerodha BO ID and DP ID online
(1) Login to the Zerodha Kite mobile application.
(2) After login, tap on the User icon and select the "Profile" option. (see below image)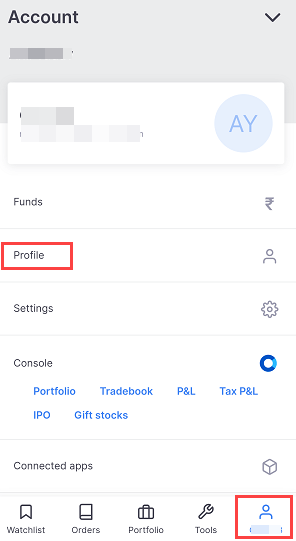 (3) In the profile section, tap on "Manage Account" option.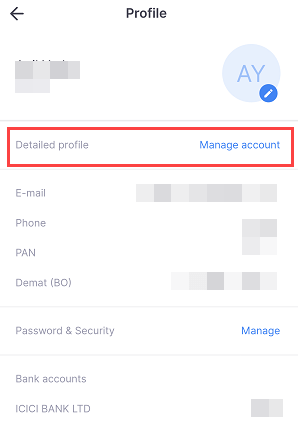 (4) Now your account details will be opened in the browser. Open menu options and tap on "Demat" option.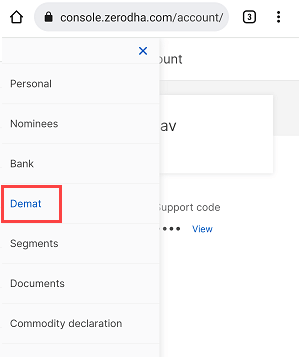 (5) And now you can see your 16-digit Demat account number, your BO ID, and DP ID.
To register on CDSL easiest, you need to enter your 8-digit BO ID and to create TPIN you need to enter a full 16-digit BO ID means your Demat account number.
I hope you now understand what is DP ID and BO ID in Zerodha account and how to find these details online. You can also check your BO ID and DP ID on your statement file.