Zerodha Demat account users can buy and invest in Sovereign Gold Bond (SGB) scheme online using Zerodha Coin. Here we will explain step by step on this topic so follow the below steps and buy Sovereign Gold Bond (SGB) and invest in Gold on Zerodha Coin.
With Sovereign Gold Bond (SGB) scheme, you can earn an additional 2.5% interest annually. Instead of buying physical gold, buy SGB and get extra benefits.
Zerodha Coin – Purchase Sovereign Gold Bond Online
Step 1: Visit (https://coin.zerodha.com/) and login to your Zerodha account using your Zerodha kite login credentials.
Step 2: After login, click on the "Dashboard" and here you will find "ETF & SGB" select this option.
Step 3: You can see the "Sovereign Gold Bond" option here. If SGB is available to invest then you can see the current available Sovereign Gold Bonds Scheme, offer close date, and price per unit. Click on the "Place Order"

Step 4: Next screen, enter the unit (1 Unit = 1 Gram gold), you can see the per unit price, Add funds to your account if your account has insufficient funds, and click on confirm. (Here I'm going to buy 1 unit)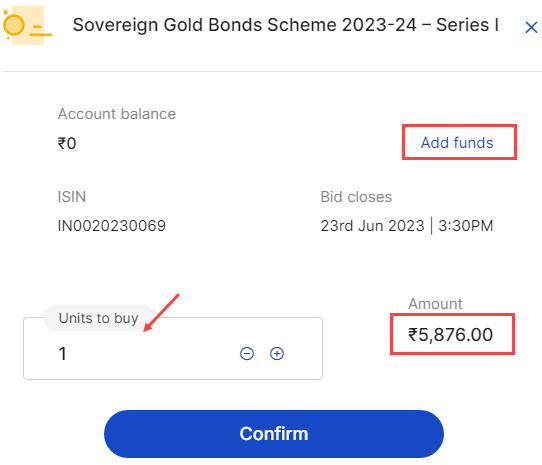 Step 5: Finally confirm your purchase and click on confirm. Done! your request has been submitted successfully.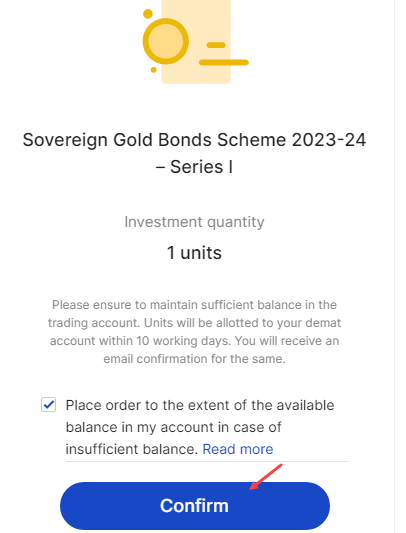 Please ensure to maintain sufficient balance in the trading account. If your account has insufficient funds then your purchase will be rejected. Units will be allotted to your demat account within 10 working days. You will receive an email confirmation on your registered email address.
You can login to the Zerodha Coin website and mobile application to view your Sovereign Gold Bond (SGB) investment profile.